Welcome to Sole Obsession - Salisbury's Running Store.  

As a keen runner and qualified Personal Trainer, my aim is to find the best running shoes for you so you can simply enjoy your running! 

We stock a wide range of top brand running shoes including ASICS, Brooks, Mizuno and Saucony for road and trail running.
Visit the shop for a Personal Assessment  

Whether you're just starting out or an experienced marathon runner, come in for a personal assessment to discuss your requirements, measure your feet and decide the right type of shoe for you.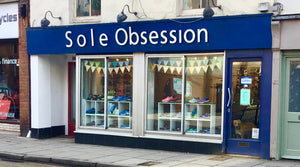 Everyone is unique, as are their feet.  Choosing the correct running shoes will provide you with 
*  the right cushioning to absorb shock and minimise the impact on your joints
*  the right support to ensure the correct alignment of your ankles, knees and hips.
If you would like to ask any questions or order by phone, please call Simon on 01722 421000 or email info@sorunningshoes.co.uk 
Sole Obsession Running Shoes
59 - 61 Fisherton Street,  Salisbury, Wilts, SP2 7SU
T. 01722 421000.  info@sorunningshoes.co.uk
Opening Hours
Monday 9.00 - 5.30
Tuesday 9.00 - 5.30
Wednesday 9.00 - 5.30
Thursday 9.00 - 5.30
Friday 9.00 - 5.30
Saturday. 9.00 - 5.30
Sunday. Closed
How long will my running shoes last?